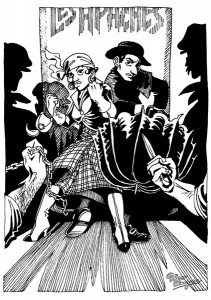 Since I started studying Paris argot, it was only logical to continue with the Apaches of Montmartre. Looks like Mayann is ready to give them a taste of their own dance.
… And that was how I came to know Julot and Gigolette,
And we would talk and drink a bock, and smoke a cigarette.
And I would meditate upon the artistry of crime,
And he would tell of cracking cribs and cops and doing time;
Or else when he was flush of funds he'd carelessly explain
He'd biffed some bloated bourgeois on the border of the Seine.
So gentle and polite he was, just like a man of peace,
And not a desperado and the terror of the police.
(Robert Service, 1921)
Lord knows what Falco thinks he can do with his umbrella. Perhaps it's something he learned as a missionary in Japan, or maybe he is familiar with the Cunningham system.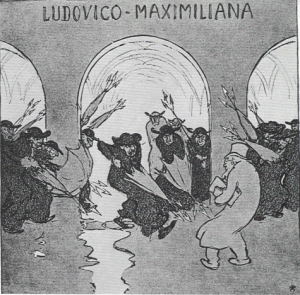 Studying popular imagery of the clerical class over the centuries, one is struck by the ubiquitous umbrella, if you pardon the pun. Here some Jesuits chase away a secular scientist from a Bavarian university in the German satirical magazine Jugend (1913).