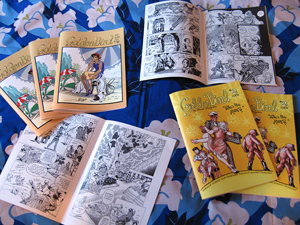 GoldenBird is a humorous adventure comic set in the early 1920's. It is inspired by real events, but all characters are fictional, and many places are fictional as well. If you have a taste for romance and comedy and want to see all those cute but stereotypical sidekicks from adventure stories throughout the ages in leading roles, you will like this comic.
As for today (1 January 2019), I have finished 5 chapters of 7 planned, and I'm working on chapter 6. All pages will be gradually published here, in addition to bonus strips and illustrations. Chapters 1-4 have been self-published in several printed editions.
You're welcome to follow my progress by RSS feed for FREE!
Who is writing this?
My name is Ainur Elmgren. I have been drawing comics for as long as I can remember.
Some of them have even been published, for example, in the Swedish student magazine Lundagård. Currently, the Swedish history journal Scandia is publishing my comics.
In 2003, I started to work on my Ph.D. in history at Lund University, which forced me to put aside my regular drawing for some time. But the very thing that came between me and the pencil – History with a big H – inspired me to start drawing a real story again. The 1920's with their political fury and glitzy entertainment caught my attention. Finally, I defended my thesis successfully on December 19th, 2008, and nowadays I'm working as a researcher and teacher at the University of Helsinki, Finland.
Drop me a line: ainur dot elmgren at iki dot fi
Terms Of Use
All copyright, trade marks, design rights, patents and other intellectual property rights (registered and unregistered) in and on goldenbird.se and all content located on the site belong to Ainur Elmgren. You may not copy, reproduce, republish, disassemble, decompile, reverse engineer, download, post, broadcast, transmit, make available to the public, or otherwise use goldenbird.se content in any way except for your own personal, non-commercial use. You also agree not to adapt, alter or create a derivative work from any goldenbird.se content except for your own personal, non-commercial use (and in that case, I really want to see it!). Any other use of goldenbird.se content requires the prior written permission of Ainur Elmgren.
Comments are moderated without mercy. Because of an aggressive spam filter, it might take a while before your first comment is published. As for the content of comments, I suggest following the following guidelines:
* Comments must be polite and tasteful. Criticism is welcomed.
* If tasteless, comments must at least be constructive. No ad hominem.
* No spamming. (I just want to have that spelled out.)
* No impersonation. (e.g., it's okay to pretend to be Zorro, but do not pretend to be another actual commenter)
I'm not the US Congress – the First Amendment does not apply to my website. Anyway, I'm happy to receive ANY comments at all, so don't let this stop you from writing.