Goldenbird in Print
You can order these comics from Ainur Elmgren by email (firstname.lastname@iki.fi). Shipping not included.
Click to view covers in larger size.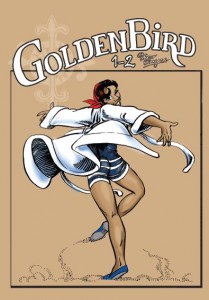 Goldenbird 1-2 (chapters 1 & 2)
A5, 64 pages (B/W)
Price: 5 € (50 SEK)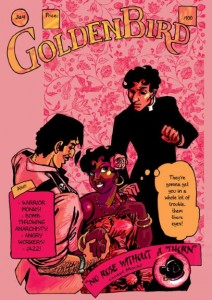 Goldenbird 3-4 (chapters 3 & 4)
A4, 64 pages (B/W)
Price: 5 € (50 SEK)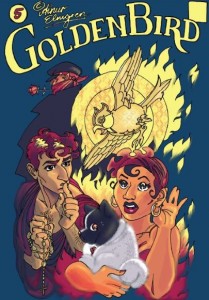 Goldenbird 5 (chapter 5 + bonus comic)
A5, 36 pages (B/W)
Price: 5 € (50 SEK)
Other Publications
(selection)
Short stories in the erotic anthology series Swedish Comic Sin (publisher: Nattserier).
For mature readers.
Swedish Comic Sin 2 (sold out): "Thaw"
Swedish Comic Sin 3 (2012): "Comrade in Bed"
Language: English.
A5, 184 pages
Price: 10 € (100 SEK)
Interview with me about Swedish Comic Sin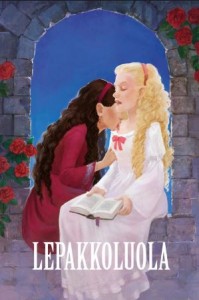 "Mieletön blues", short story in the anthology Lepakkoluola (publisher: Team Pärvelö).
Language: Finnish (with English subtitles).
A5, 151 pages
Price: 12 € (120 SEK)
Our anthology was featured among Erica Friedman's Top Ten Yuri Manga 2014!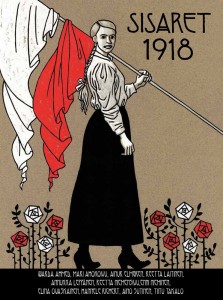 "Hulda", short biographical comic published in the anthology Sisaret 1918 (Arktinen Banaani).
Language: Finnish.
A4, 112 pages.
Winner of the award Sarjakuva-Finlandia!
Sold out at the publisher. You can still buy albums from Ainur and the other creators as long as stocks last. Price: 25 €
Description (Finnish):
Kymmenen sarjakuvataiteilijaa tulkitsee kymmenen naisen tai lapsen kokemuksia Suomen sisällissodan tapahtumista. Valitut tarinat ovat peräisin Kansan Arkiston muistitietokokoelmasta ja Suomalaisen Kirjallisuuden Seuran 1918-kokoelmasta. Kertojia on sekä punaisten että valkoisten puolelta ympäri maata. Vaikuttavan teoksen toimitti Reetta Laitinen. Tekijät ovat Reetta Niemensivu, Tiitu Takalo, Mari Ahokoivu, Elina Ovaskainen, Annukka Leppänen, Emmi Nieminen, Ainur Elmgren, Aino Sutinen, Hannele Richert ja Warda Ahmed.