Monday after the Festival
Helsinki Comics Festival – the aftermath.
New friends, old friends, interesting discussions, new discoveries – the festival delivered. Perhaps surprisingly in these trying times, a lot of people were happy to spend their hard-earned cash on my comics, and my neighbors in the Small Press Heaven tent made similar observations. Sari sold out her KÄRMES fanzine (a funny and educational all-ages story of the inner life of a snake in bright, happy colours) and homemade owl jewellery (I bought a ring) and Kaarina's hilarious and memorable characters were an instant success (I bought her Sarjakuvahahmojen salaiset seikkailut – the secret adventures of the comic characters – brilliant dialogue and an incredible amount of small clever ideas crammed into 32 pages).
Goldenbird also sold well, and people even thought that it was cheap (5 € for 64 pages is pretty decent – I might raise the price in the future). I also sold/gave away ashcan prints of Jelly Roll Blues as advertisements for 10 cents each. Of the original share of 30, I still have something like 16 Swedish Comic Sin 2 books that haven't been reserved for very special people, so hurry to get yours! I gave two to the comic archive of Sarjakuvakeskus and one to the comic journal Sarjainfo for review.
Comics that I bought:
Essi Kakkola – Minä vs. laki ja järjestys
– Her attractive art style caught my eye (as well as the neat haircut). Weird dreams – I have them, I love them. Essi's dreams have their own peculiar logic and sexy uniforms
– He offered me his book and 10 € for one SCS volume. I immediately agreed. This would make a neat Christmas gift for a dear old friend of mine. Surprisingly many LOL moments even though I tick at least 11 boxes in the list of possibly offended types on page 6. Tuukka was also dressed in military style at the festival :3
Ilkka Markkula & Jukka Koivusaari – Punainen ratsumies – Verner Lehtimäen tarina osa 1
– The art makes me cry a little on the inside, but I can't resist the historical topic. Verner Lehtimäki was a leader of the Red guards in the Finnish civil war. This story pulls no punches – provocateurs are being shot on slightest suspicion, Swedish volunteers taste the sabre, and Verner even finds time for some romance with a brave courier. Maybe I should try my hand on a story about Aarne Orjatsalo.
Team Pärvelö – TentaLove luku 1. Idiootit ja realistit
– Now and then even I find some boy's love story quite suspicious and totally irresistible. Great, lively expressions and body language. Jaakko the Ostrobothnian pervert nerd is my new idol. (I'm not sure if he's Ostrobothnian, but there was this cute note in dialect…)
Now, without further ado, some nice photos.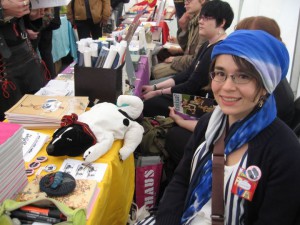 Photo: Kaarina Uimonen

Photo: Aino Sutinen
Selling comics with Kaarina Uimonen & Sari Toivola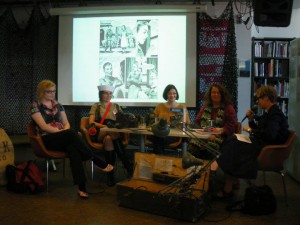 Photo: Matti Karjalainen
All-female panel on war comics (the original British Commando comics as well as the Finnish Korkeajännitys independent spin-off series)