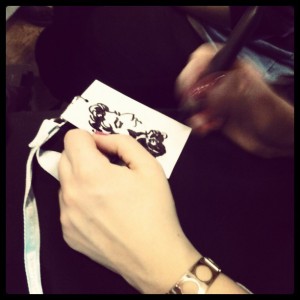 The Stockholm Comic Festival 2013 was a success – even though I didn't see much of it, except the Small Press Expo. The yearly SPX at Kulturhuset, Sergels torg, is the bustling belly, the guts of the festival. It's both a market and a social forum, and this year felt particularly frantic, in a good way. Many zines were sold and swapped, and many good friends were greeted and encouraged to go on with this often tough but rewarding craft.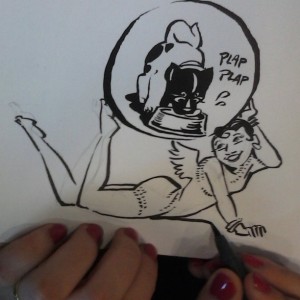 Here are some instagrams by Tinet, who documented my signatures. Sadly I didn't return the favour – what was I thinking?? :(
But there are lots of nice pictures on her blog, anyway! My friend Kaarina flew with me to Stockholm. She is the perfect travelling companion, always optimistic and cheerful. In fact, this trip made me realize again how many lovely and kind people I know, and how much I value their friendship.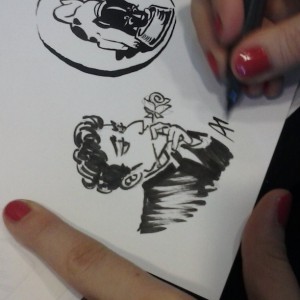 I also want to thank Stina for being a graceful host and wonderful artist to discover, and Valentin for being a generous host in absentio – too bad we couldn't meet!
It was also good to get some drawing practice. My characters grow feral and rambunctious when I don't groom them regularly with brush strokes, especially Falco and Mayann. Suddenly I realized that I have been drawing Falco since (approximately) 1995 or 1996. He was conceived after my family moved from Germany to Finland, maybe because I felt like a sophisticated southerner in the far barbaric north myself. Admittedly, 18 years ago he was a different type of character, a living personification of a whole bunch of mortal sins in fact, but now he is paying the price… And grew to be even more popular.